КОТТЕЛАТА БРИТАНИ (Kottelatia brittani)
Коттелата Британи в естественных условиях обитает в водоемах, расположенных в Юго-Восточной Азии. Рыбки держатся в тихих лесных протоках и заводях, с чистой водой. Свое название рыбка получила: Kottelatia – в честь ихтиолога из Швейцарии Мориса Коттелата (1957 г.), автора многочисленных трудов о расборах, и brittani – в честь Мартина Бриттана (2008 г.), автора монограмм о расборах и близкого друга Мориса Коттелата. Рыбка не сложная в содержании и может быть рекомендована начинающим аквариумистам.
Основная окраска Kottelatia brittani серая, брюшко серебристое. У основания хвостового оперения небольшое красно-черное пятно. Половозрелые самки немного крупнее самцов и имеют более округлое брюшко. Максимальный размер рыб составляет 5-6 см.
Коттелата Британи будет отличным соседом для всех миролюбивых рыб, живущих в одном аквариуме. Единственное исключение более крупные и активные виды рыб, которые могут конкурировать с ними за жизненное пространство и корм.
Коттелата Британи в природе живут большими группами, поэтому в аквариуме их желательно содержать стайкой, состоящей по меньшей мере из 8-10 особей. Содержание рыб в таком количестве делает их менее пугливыми, и они демонстрируют более естественное поведение. Особенно интересно наблюдать в этом случае за самцами, которые, в результате соперничества друг с другом за внимание самок, принимают яркую окраску.
Для содержания рыбок подойдет аквариум объемом от 70 л. Выбор декора не так критичен, как качество воды, хотя в аквариуме, засаженном растениями, в том числе плавающими на поверхности воды, и темным субстратом Коттелата Британи демонстрируют более яркую окраску.
Параметры воды: температура 20-26°C, жесткость dH 1-10°, кислотность pH 6,0-7,5. Необходимы фильтрация, аэрация и еженедельная подмена 1/3 части аквариумной воды свежей. Не следует помещать рыб в аквариум, в котором еще не установилось биологическое равновесие, так как они очень восприимчивы к резким колебаниям химического состава воды. Так же аквариум следует накрывать крышкой, которая предотвратит выпрыгивание рыб из него.
Освещение средней интенсивности. Нужно отметить, что при слабом освещении рыбы принимают более контрастную окраску. Продолжительность светового дня 10-12 часов в сутки.
В природе рыбы питаются мелкими насекомыми, червями и ракообразными. В аквариуме они едят большинство кормов для рыб: разнообразные сухие корма, живые и замороженные, такие как дафния, артемия, мотыль и др. Кормить рыб нужно 2 раза в день.
В благоприятных условиях содержания Коттелата Британи систематически нерестятся, вот только процент выживших мальков в этом случае невелик. Для того, чтобы существенно увеличить процент выживших мальков понадобится нерестовый аквариум объемом около 20 л.
Нерестовик необходимо наполнить старой водой из основного аквариума. На дне нужно высадить кусты яванского мха или расположить сепараторную сетку. Освещение должно быть слабым.
Как только самка отнерестится, производителей отсаживают. Икра инкубируется, в зависимости от температуры воды, 18-28 часов, а спустя еще пару дней мальки начинают плавать и питаться.
Мальков кормят живой пылью, артемией и специализированными кормами предназаначенными для мальков рыб.
Продолжительность жизни Коттелата Британи в аквариумных условиях составляет 3-4 года.
Обнаружили ошибку или мёртвую ссылку?
Выделите проблемный фрагмент мышкой и нажмите CTRL+ENTER.
В появившемся окне опишите проблему и отправьте Администрации ресурса.
Seriously Fish
SPECIESIMAGES
THEADVERTS
SPECIES PROFILE
Kottelatia brittani (AXELROD, 1976)
SynonymsTop ↑
Rasbora brittani Axelrod, 1976
Etymology
Kottelatia: named in honour of Swiss ichthyologist Maurice Kottelat (1957-), author of numerous species and several genera of rasborins.
brittani: named in honour of Martin R. Brittan (d. 2008), monographer and reviser of Rasbora (the genus in which this species was described) and "close personal friend".
Classification
Order: Cypriniformes Family: Cyprinidae
Distribution
This species's distribution is unclear. It was described from Segamat District within the the Johor River watershed, Johor state, southern Peninsular Malaysia, but the type specimens were obtained via a Singapore wholesaler so it's possible that a mistake was made as there exist no other records of the species in Peninsular Malaysia.
Type locality is 'Johore River, Segamat, Malaysia'.
Specimens collected from the Kapuas drainage in Kalimantan Barat (West Kalimantan) province, Indonesia (Borneo) and initially >
Habitat
Presumably inhabits quiet forested streams and tributaries containing relatively clear water, although we've been unable to obtain any definitive information to date.
Maximum Standard Length
Aquarium SizeTop ↑
An aquarium with a base measuring 75 ∗ 30 cm or more should be used.
Maintenance
Choice of décor is not as critical as water quality although it tends to display better colouration when maintained in a well-planted set-up with a dark substrate. The addition of some floating plants and driftwood roots or branches to diffuse the light entering the tank also seems to be appreciated and adds a more natural feel.
Do not add this fish to a biologically immature tank as it can be susceptible to swings in water chemistry, and be sure to add a tightly-fitting cover since it is an accomplished jumper.
Water Conditions
Temperature: 20 – 26 °C
pH: Generally said to do best under acidic conditions but SF members who have kept it say that it prefers neutral pH. A value within the range 6.0 – 7.5 should be ok.
Hardness: 18 – 143 ppm
Likely to prey on small insects, worms, crustaceans and such like in nature. In the aquarium it will accept dried foods of a suitable size but also offer daily meals of small live and frozen fare such as Daphnia or Artemia.
Behaviour and CompatibilityTop ↑
This species makes an ideal addition to a well-chosen community but will not compete well with much larger or more boisterous species.
In a biotope-style arrangement you could try it alongside other species from the Batang Hari drainge such as Desmopuntius johorensis, Rasbora cephalotaenia, R. einthovenii, Brevibora doorsiocellata, Trigonopoma pauciperforatum, T. gracile, Trigonostigma hengeli, Pangio anguillaris, P. oblonga, or P. semicincta. It also makes an ideal companion for timid anabantoids such as Sphaerichthys or the more diminutive Betta species.
It is a schooling species by nature and really should be kept in a group of at least 8-10 specimens. Maintaining it in decent numbers will not only make the fish less nervous but will result in a more effective, natural-looking display. Males will also display their best colours as they compete with one other for female attention.
Sexual Dimorphism
Mature females are noticeably deeper-bodied and often grow a little larger than males.
Reproduction
An egg-scattering free spawner exhibiting no parental care. In a well-planted, mature aquarium it' is possible that small numbers of fry may start to appear without intervention.
However if you want to maximise yield a more controlled approach is required. The adult group can still be conditioned together but a smaller tank with a base measuring around 45 cm x 30 cm should also be set up and filled with mature water. This should be very dimly lit and the base covered with some kind of mesh of a large enough grade so that the eggs can fall through but small enough so that the adults cannot reach them.
The widely available plastic 'grass'-type matting can also be used and works well, as does a layer of glass marbles. Alternatively filling much of the tank with a fine-leaved plant such as Taxiphyllum spp. or wool mops can also return decent results. The water itself should be of slightly acidic to neutral pH with a temperature towards the upper end of the range suggested above. An air-powered sponge filter or air stone(s) should also be included to provide oxygenation and water movement.
When the adults are well-conditioned and the females appear gravid one or two pairs should then be introduced. If ready spawning usually taking place within 24 hours, signified by the female appearing noticeably slimmer. After 48 hours the adults should be removed whether spawning has occurred or not.
Incubation is temperature-dependant to an extent but typically lasts 18-28 hours with the young free-swimming 1-2 days later. Initial food should be Paramecium or similar, introducing Artemia nauplii, microworm, powdered dry foods, etc., once the fry are large enough to accept them.
NotesTop ↑
This species is a rare find but may be seen on sale with the trade name 'head and tail light rasbora' when it is available. It has been confused with the similar-looking Rasbora kalbarensis on occasion but can be identified by its larger adult size, more pointed head profile and intense orange to red blotches on the caudal peduncle.
The body of R. kalbarensis is also suffused with a pinkish hue, while K. brittani lacks a symphyseal knob on the lower jaw, the small projection which is present in all Rasbora species.
The genus Kottelatia is told apart from other rasborins by the following characters: palatine process slender with a narrow base, and very long in length without projection; coronoid process enlarged; plate-like expansion anteroventrally on dentary absent.
Rainboth (1996) characterised members of Rasbora by possession of an unbranched, non-spiny first dorsal fin ray and seven soft dorsal rays, origin of the dorsal fin in the middle of the body, five branched anal fin rays, a small mouth not extending below the eye and a lack of barbels. It has long been recognised as a polyphyletic lineage, and Liao et al. (2010) proposed a number of taxonomical changes based on the results of their phylogenetic analysis.
The authors found species of rasborin genera to represent a monophyletic grouping existing in six clades, and erected four new genera (all containing former members of Rasbora) in order to preserve monophyly of the existing groups; Boraras, Horadandia, Rasbora, Rasboroides and Trigonostigma.
The first clades is monotypic, comprising only Kottelatia brittani (formerly Rasbora brittani) while the second contains the genus Brevibora. The third clade comprises Boraras, Horadandia, Rasboroides, Trigonostigma and three species previously included in Rasbora but moved into new genera; Trigonopoma gracile, T. pauciperforatum and Rasbosoma spilocerca. The results for Boraras and Trigonostigma were found to be inconclusive in some respects and further work regarding their phylogenetic position was recommended.
The fourth clade includes Rasbora semilineata, R. borapetensis, R. rubrodorsalis and an undescribed fish similar to R. beauforti. Clade five consists of R. daniconius, R. hubbsi, R. paucisqualis, R. wilpita, R. kobonensis, R. ornata and R. cf. daniconius. Clade six, meanwhile, is subdivided into two groupings.
The first contains R. einthovenii, R. elegans and R. cephalotaenia and the second R. lateristriata, R. argyrotaenia, R. volzii, R. paviana, R. rasbora (plus an undescribed, similar fish), R. caudimaculata and R. trilineata. As this final clade contains the type species (see below) its members retain the generic name Rasbora as do clade five species because they don't differ sufficiently to warrant the erection of a new genus/genera.
Unfortunately many species weren't included in the analysis, meaning inevitable questions are raised regarding the correct placement of the 40 or so other Rasbora spp., in particular. As the genus had previously been split into various 'species groups' (groups of closely-related species) dating back to Brittan (1972, who referred to them as 'species complexes') Liao et al. proposed the following arrangement whilst noting it may be subject to change with further phylogenetic studies:
R. semilineata species group: R. semilineata, R. borapetensis, R. rubrodorsalis.
R. trifasciata species group: R. trifasciata, R. amplistriga, R. bankanensis, R. dies, R. ennealepis, R. hubbsi, R. johannae, R. meinkeni, R. paucisqualis, R. rutteni, R. sarawakensis, R. taytayensis, R. tobana, R. tuberculata.
R. daniconius species group: R. daniconius, R. caverii, R. kobonensis, R. labiosa, R. ornata, R. wilpita.
R. einthovenii species group: R. einthovenii, R. cephalotaenia, R. elegans, R. jacobsoni, R. kalochroma, R. kottelati, R. nematotaenia, R. tubbi.
R. argyrotaenia species group: R. argyrotaenia, R. aprotaenia, R. aurotaenia, R. baliensis, R. borneensis, R. bunguranensis, R. dusonensis, R. evereti, R. hobelmani, R. hossi, R. lateristriata, R. laticlavia, R. leptosoma, R. philippina, R. septentrionalis, R. spilotaenia, R. steineri, R. tawarensis, R. tornieri, R. volzii.
R. sumatrana species group: R. sumatrana, R. atridorsalis, R. calliura, R. caudimaculata, R. dorsinotata, R. notura, R. paviana, R. rasbora, R. subtilis, R. trilineata, R. vulgaris.
Not classified: R. beauforti, R. chrysotaenia, R. gerlachi (validity in question), R. kalbarensis, R. reticulata, R. vulcanus (possibly not Rasboras) and R. zanzibarensis (identity in question).
Shortly afterwards a paper investigating systematics of the subfamily Danioninae was published (Tang et al. 2010) with significantly different results. The four new genera proposed by Liao et al., plus Boraras and Trigonostigma, were synonymised with Rasbora based on an incomplete knowledge of relationships within the group, an approach described as 'more conservative'. Though perhaps neither conclusion is satisfactory we dec >
The identity of the type species, often given as R. rasbora in the past, is no longer in question; when Bleeker first referred to the name Rasbora in 1859 only four nominal members were included of which R. cephalotaenia (known as Leuciscus cephalotaenia at the time) should be considered the type. Howes (1980) suggested the separation of a number of species into the new genus Parluciosoma with type species P. (Rasbora) argyrotaenia but the monophyly of that grouping was not recovered in phylogenetic analyses.
Об авторе
Биография
Бриттани Кавалларо родилась в 1986-ом году в Спрингфилде, где прожила до подросткового возраста. Она живет со своим мужем и кошкой в Висконсине.
Библиография
Книги
Премии
Рецензии
Дочитаю трилогию, думала я. Всего одна книжка осталась, думала я. Избавлюсь наконец и уйду с чистой совестью, думала я. Ага, фиг мне, а не избавление. Бриттани Кавалларо, в погоне за трендами, добавила четвертую книгу. Бумажки с головами президентов все любят, даже я, отныне нищая первокурсница, это понимаю.
Искать какие-то намеки на каноничных Холмса и Ватсона я давно перестала. "Дело для Джейми" представляет собой 5% слежки и погони, в стиле Джеймса Бонда, и 95% процентов драмы и выяснения отношений. Любой драмы и любых отношений, на самом деле. Будь-то проблемы подростков, проблемы отцов и детей, проблемы с алкоголем и наркотиками или с родителями-гадами. Тут есть трава на любой вкус, правда, на хорошее качество не надейтесь.
Книги Бриттани Кавалларо интересны в том плане, что они показывают токсичные отношение, в которых абьюзером выступает девушка, а парень – жертвой. Джейми и Шарлотта выступают в своих привычных ролях (привычных для этой серии, разумеется), и оба бесят меня несчадно. После прочтения становится понятно: изначально, история все-таки задумывалось как трилогия. Однако, по пути г-жа Кавалларо решила придатся современным модным веяньям, и добавила еще одну книжку. Да только не учла, что в итоге из триквела получилось какое-то невнятно одной ей понятное что.
В первой книге все четко шло от лица Джейми, во второй: снова от лица Джейми, но с дополнениями от Шарлотты. В "Деле для Джейми" же главы чередуется.
Ни для кого не секрет, что Шарлотта Холмс мне, мягко говоря, не очень импонирует как персонаж. Она отвратительна, эгоистична и безнравственна. В принципе, она таковой и осталась, но наблюдать все эти пороки от лица Джейми и быть у нее в голове – две разные вещи. После гибели Августа Мориарти Шарлотта решила никому ничего не сказав, свалить и отомстить всей этой шибутной семейке. Непонятно, за что, кстати говоря. Мориарти ничего плохого ей не сделали, когда та сперва вынудила Августа инсценировать собственную смерть, а потом еще и скинула на них вину за похищение Леандера, хотя знала, что те ни в чем не виноваты. Мориарти во всей этой ситуации вызывают больше симпатии, и у них действительно есть причины ненавидеть Холмсов. Они дважды пережили смерть Августа, неудивительно, что им хочется отомстить. Поэтому я болею за них в этой схватке.
То что Эмма и Алистер Холмсы (родители двух бесящих гадов по имени Майло и Шарлотта) – отвратительные люди, которым плевать на все и всех, кроме чести семьи, было понятно со времен их непосредственного появления. Однако, теперь г-жа Кавалларо во всю давит на то, что во всех бедах Шарлотты виноваты именно родители. Токсичные люди не становятся токсичными просто так, это правда. Однако, это не дает им права относится к окружающим так, словно те им что-то должны.
Всю книгу Шарлотта представляется всем фешн-блоггершой и следит за Мориарти. В целом, это довольно скучно и акцентировать на этом внимание мы не будем.
Джейми отучивается свой последний год в Шерринфорде. Он стал депрессивным, рассеянным и ведет себя с окружающими как полный мудак что со своими "друзьями", что со своей девушкой (которая всего это дерьма явно не заслуживает). А потом его еще снова в преступлении обвиняют. Короче говоря, Шарлотта воспитала парня подстать себе. Всю книгу Джейми злится на Шарлотту за то, что та его кинула и сбежала никому ничего не сказав.
Почему Кавалларо пытается всучить нам романтические отношения между Джейми и Шарлоттой? Я имею в виду, они даже друзьями нормальными быть не могут.
Однако, в конце:
Мы словно какой-то дикий огонь. Мы совершаем отвратительные поступки. Мы заставляем друг друга совершать отвратительны поступки. Вместе нам плохо, и я не могу продолжать мучить тебя.
Джейми и Шарлотта осознали, что они в абьюзивных отношениях?! Серьезно?! Ущипните меня! Либо г-жа Кавалларо изначально планировала их отношения в качестве токсичных, либо она начиталась рецензий, ужаснулась и попыталась хоть как-то выйти из этой ситуации.
Шарлотта решила наконец посетить психиатра, а Джейми решил доучиться. И это довольно неплохой финал. Он преподносит важную мысль: осознавать свои проблемы и искать помощь – это не плохо, а психологи действительно могут помочь, но только если вы этого хотите. Но! Это не отменяет всей той фигни, которая происходит в этой книге помимо романса.
Финал прочитаю, что уж там. Авось, Кавалларо и впрямь заставит меня болеть за этот пейринг.
Рецензия в блога
Рецензия на Goodreads
Дочитаю трилогию, думала я. Всего одна книжка осталась, думала я. Избавлюсь наконец и уйду с чистой совестью, думала я. Ага, фиг мне, а не избавление. Бриттани Кавалларо, в погоне за трендами, добавила четвертую книгу. Бумажки с головами президентов все любят, даже я, отныне нищая первокурсница, это понимаю.
Искать какие-то намеки на каноничных Холмса и Ватсона я давно перестала. "Дело для Джейми" представляет собой 5% слежки и погони, в стиле Джеймса Бонда, и 95% процентов драмы и выяснения отношений. Любой драмы и любых отношений, на самом деле. Будь-то проблемы подростков, проблемы отцов и детей, проблемы с алкоголем и наркотиками или с родителями-гадами. Тут есть трава на любой вкус, правда, на хорошее качество не надейтесь.
Книги Бриттани Кавалларо интересны в том плане, что они… Развернуть
Kottelatia brittani – Schlusslicht-Rasbora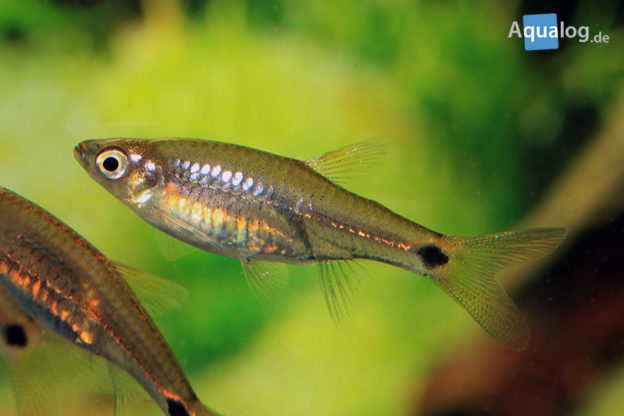 Auf den ersten Blick wirkt diese niedliche Rasbora vielleicht etwas unscheinbar, doch wenn man sie im richtigen Milieu pflegt – Schwarzwasser und gedämpfte Beleuchtung – ist sie ein wunderschöner Fisch.
Aufgrund mehrerer anatomischer Besonderheiten wurde die Art kürzlich aus der Gattung Rasbora herausgenommen und in die neugeschaffene Gattung Kottelatia gestellt, heißt nun also richtig Kottelatia brittani.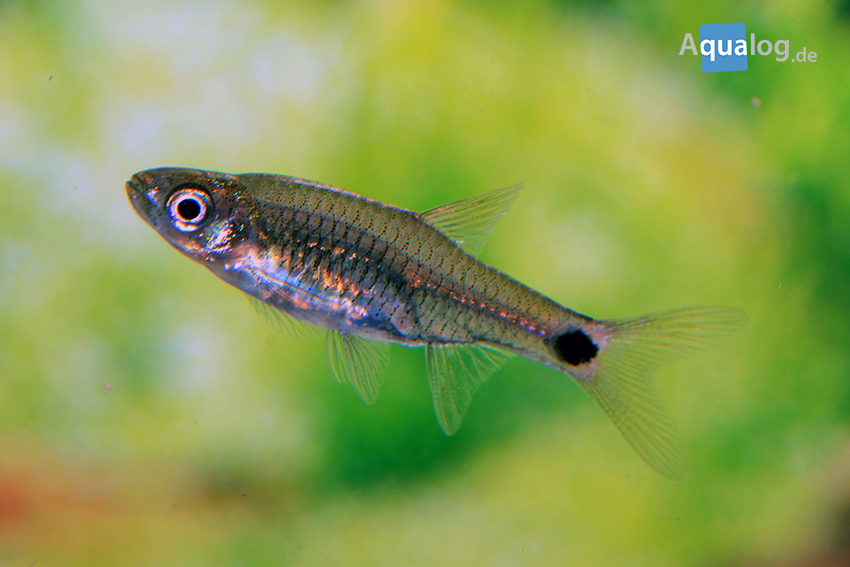 Männchen von Kottelatia brittani
Offenbar wird Kottelatia brittani sehr häufig mit Pectenocypris korthausae verwechselt, der identisch gefärbt ist, jedoch viel schlanker ist und eine längere Schnauzenpartie hat.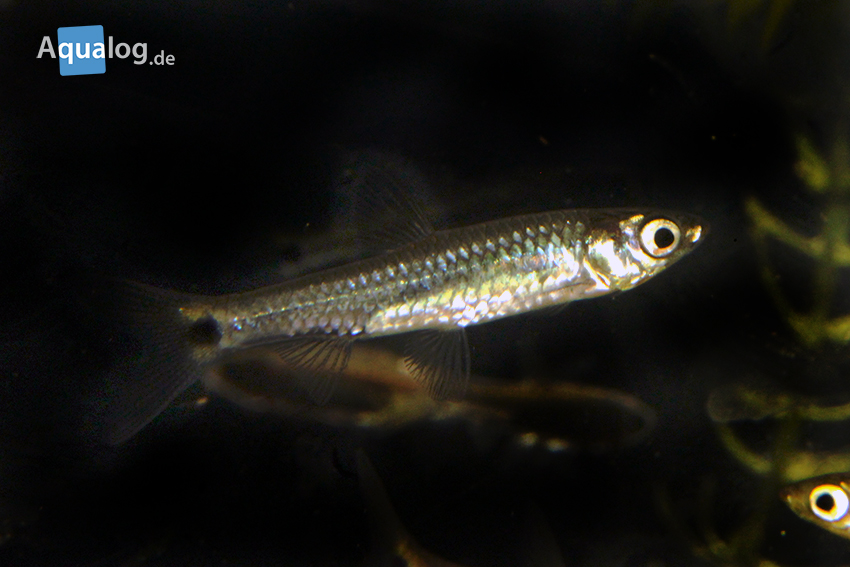 Pectenocypris korthausae; diese Art ist K. brittani sehr ähnlich, aber viel schlanker gebaut.
Die fotografierten Tiere (Wildfänge) sind mit 3-3,5 cm Länge voll geschlechtlich differenziert und die Weibchen haben kräftigen Laichansatz. Insofern scheint die in der Literatur angegebene Maximallänge für Kottelatia brittani mit etwa 5 cm doch etwas hoch gegriffen.
Die natürliche Verbreitung von Kottelatia brittani erstreckt sich über die Malayische Halbinsel und Indonesien. Die Gattung Kottelatia ist monotypisch, enthält also nur diese eine Art.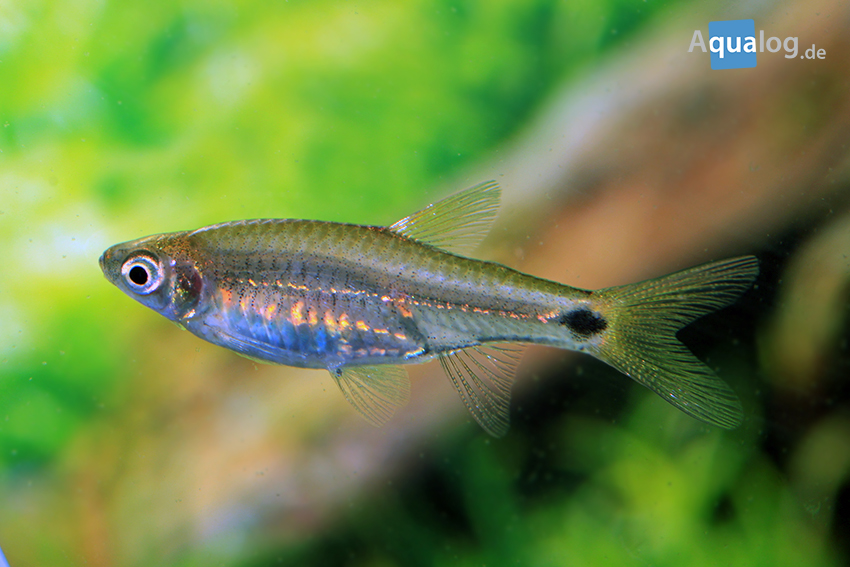 Kottelatia brittani, Weibchen.
Erklärung der wissenschaftlichen Namen: brittani: Widmungsname für M. R. Brittan, der 1954 eine Revision der Gattung Rasbora durchführte. Kottelatia: Widmungsname für Maurice Kottelat, einem der bedeutensten Kenner der südostasiatischen Süßwasser-Fischfauna. Pectenocypris: aus dem altgriechischen, bedeutet in etwa "Kamm-Karpfen". korthausae: Widmungsname für Edith Korthaus, ehemalige Redakteurin der Zeitschrift "Das Aquarium", die den Fisch entdeckte. Rasbora: nach der einheimischen Bezeichnung einer der Arten in Bengalen
Vorschlag eines deutschen Gebrauchsnamens: Schlusslicht-Rasbora
Text & Photos: Frank Schäfer

Über den Autor Frank Schäfer
Seit 1980 Mitglied im Verein für Aquarien- und Terrarienkunde Hottonia e.V., dort seit 1982 auch immer wieder Vorstandsämter (Gartenwart, Redakteur der Vereinszeitschrift, 1. Schriftführer), seit 1982 Mitglied in der Internationalen Gemeinschaft für Labyrinthfische (IGL), seit 1992 auch im European Anabantoid Club (EAC). Erste Fachartikel über Pflege und Zucht von Puntius vittatus, Macropodus opercularis, Trionyx ferox und Polypterus senegalus in der Hottonia-Post 1981; erste große Fischfangreise in die Tropen 1983 nach Sumatra, worüber anschließend zahlreiche Aufsätze in der Hottonia-Post, der Zeitschrift "Der Makropode" und "Das Aquarium" erschienen; von da an regelmäßig Publikationen in vielen aquaristischen Fachzeitschriften, sowohl national wie auch international. Seither außerdem jährlich mehrere Dia-Vorträge auf nationalen und internationalen Tagungen.
Studium der Biologie in Darmstadt von 1984-1989, Abschluss als Diplom-Biologe mit den Prüfungsfächern Zoologie, Botanik, Ökologie und Psychologie. Diplomarbeit bei Prof. Ragnar Kinzelbach zum Thema "Wirtspezifität der Glochidien von Anodonta anatina".
Zahlreiche Fang-, Sammel- und Studienreisen in das europäische Ausland, die Türkei, Sambia und vor allem Indien; Forschungsschwerpunkt ist die Süßwasserfischfauna des Ganges mit dem Ziel einer kompletten Revision der Arbeit von Francis Hamilton (1822): An account of the fishes found in the river Ganges and its branches. Edinburgh & London. Wissenschaftliche Erstbeschreibung von Oreichthys crenuchoides und gemeinsam mit Ulrich Schliewen von Polypterus mokelembembe. Wissenschaftliche Besuche und kurzzeitige Arbeiten in den zoologischen Sammlungen von London, Paris, Brüssel, Tervueren, Wien, Berlin, Frankfurt und München.
Seit 1996 bis heute Redakteur bei Aqualog und wissenschaftlicher Mitarbeiter zur Fischbestimmung bei Aquarium Glaser, Rodgau. In dieser Zeit verantwortlich als Autor oder Co-Autor von über 20 Büchern und über 400 größeren Fachartikeln, nicht nur bei Aqualog, sondern bei nahezu allen deutschsprachigen Fachverlagen, vereinzelt auch in internationalen Publikationen. Seit 2009 Betreuung der Homepage und des Newsletters bei Aquarium Glaser mit 3-5 Posts pro Woche. Nach wie vor leidenschaftlicher Tier- und Pflanzenpfleger, quer durch den Gemüsegarten: Aquaristik (Süß- und Seewasser), Terraristik, Teichpflege, Kleinvögel.
Frank Schäfer ist verheiratet und hat zwei Töchter, die 1989 und 1991 geboren wurden.
Brittany
@brittany.parrill : Washington, DC Up Next: Egypt and Jordan in April; Anacortes in June; Thailand in November
1309Posts
541Followers
326Following
#ArnöhuvudsNaturreservat #Sweden #TravelLife #TravelDeeper #InstaTravel #SwedenImages #IG_Sweden #Wanderess #VisitSweden #Scandinavia #DiscoverSweden #Moss #Mushrooms #Funghi #Nature
Halfway through the trail you come upon a ridge with a pine forest. To my pleasant surprise, a handful of bronze age burial mounds are scattered along the forest and the ridge line. #BronzeAge #ArnöhuvudsNaturreservat #Sweden #NaturePark #SwedenImages #Explore #Travel #TravelDeeper #InstaTravel #Travelgram #WomenWhoTravel #Wanderess #Discover #IG_Sweden #VisitSweden #traveler #Scandinavia #TravelLife #PassportReady # #Sverige #PostcardsFromTheWorld
I got distracted on the drive after visiting Skokloster Slott. Nearby is a rather beautiful park: Arnöhuvud Naturreservat but you have to drive through a private farm to get there. It's a narrow dirt road but it's worth it. #ArnöhuvudsNaturreservat #Sweden # #Sverige #Scandinavia #SwedenImages #VisitSweden #Explore #Travel #TravelDeeper #Travelgram #InstaTravel #Wanderess #Discover #TravelLife #PassportReady #WomenWhoTravel #Traveler #PostcardsFromTheWorld #InstaPassport #IG_Sweden #Globetrotter #Nature #Moss #woods
#SkoklostersSlott #Skoklosters #Sweden # #Sverige #SwedenImages #IG_Sweden #Explore #Travel #TravelDeeper #InstaTravel #Travelgram #WomenWhoTravel #Wanderess #Discover #VisitSweden #Scandinavia #Traveler #InstaPassport #TravelLife #PassportReady #PostcardsFromTheWorld #swedishmoments #igsweden
#SkoklosterKyrka #Sweden #SkoklosterSweden # #Sverige #Scandinavia #IG_Sweden #TravelLife #PassportReady #TravelDeeper #Travel #Discover #Explore #Traveler #Wanderess #SwedenImages #PostcardsFromTheWorld #VisitSweden
For the life of me I couldn't decide what I wanted to do on my first full day in Sweden. So I picked a town and started driving hoping something would spark my interest along the way. And it did indeed: Skokloster Slott was posted on a brown tourist sign over the highway. And after a 20 minute drive out of the way, it DID NOT disappoint. While the castle was closed while I was there, the grounds were open and it was a beautiful walk. The castle was constructed between 1654 and 1676 by Count Carl Gustaf Wrangel. His death in 1676 however means the current castle actually sits in an unfinished state. Wrangel's eldest daughter, Margareta Juliana, had the estate entailed in 1701 and its collections and property have only increased during the subsequent 300 years. Its essentially become a time capsule of Sweden's "Age of Greatness" during the 17th and 18th centuries when they were a major world player. #SkoklosterSlott #Skokloster #Sweden #SkoklosterSweden # #IGSweden #Explore #Travel #TravelDeeper #InstaTravel #Travelgram #Wanderess #Discover #Sverige #VisitSweden #Scandinavia #IG_Sweden #TravelLife #PassportReady #InstaPassport
To this day I still have no idea what I ordered but it was AMAZING. The staff at the hotel restaurant at Hesselby Slott was the best. My server gave me several recommendations for places to go in Sweden as I was at a loss. Its rare that I don't travel with at least a general plan of "To Do's." As the other guests filtered out he came and spoke with me for about 30 minutes. It made for a highlight of my days in Sweden. This was also my best meal and a close second to my favorite meal (that being Thanksgiving Dinner in Ukraine) of my entire trip. If you are ever in the area, I cant recommend the hotel or the restaurant enough #HesselbySlott #CastleStays #HässelbySweden # #Sweden #BestMeals #SwedishCuisine #Explore #Travel #TravelDeeper #InstaTravel #Travelgram #WomenWhoTravel #Wanderess #Discover #IGSweden #VisitSweden #Scandinavia #Sverige #SwedenImages #TravelLife #PassportReady ##IG_Sweden #traveler
As far as hotel stays go, this one was pretty sensational. It isn't far from Stockholm but definitely worth the drive out of the city. The castle was built for Karl Bonde in the 1640's. His descendants owned the property until 1931 when it came under ownership by the City of Stockholm. Originally three floors, the upper level was completely destroyed by fire in 1721 and the valuable library was lost. The property fell into disrepair during the 20th century until the city's purchase of the estate, renovating the baroque gardens and the house in the 1960's. #HesselbySlott #CastleStays #Sweden #HässelbySwdden # #Explore #Travel #TravelDeeper #InstaTravel #Travelgram #WomenWhoTravel #Wanderess #Discover #PostcardsFromTheWorld #IG_Sweden #TravelLife #PassportReady #Traveler #sverige #TravelTheWorld #VisitSweden #InstaPassport #Scandinavia #SwedenImages
The Ruin of St Olof's in Sigtuna is only one of three major church ruins in the town. There were as many as seven major churches constructed during the town's first 300 years but only these ruins remain of any of them. St Olof's was constructed in the early 1100's but after extensive excavations in the 2000's, it was discovered it actually sat upon an older structure believed to be the oldest stone church in Sweden. There are five rune stones on the church grounds, one of which is actually embedded in the wall of the ruined church. #Sigtuna #SanktOlofsKyrkoruin #RuneStones #SigtunaSweden #Sweden # #IG_Sweden #VisitSweden #Scandinavia #Explore #Travel #TravelDeeper #InstaTravel #Travelgram #WomenWhoTravel #Discover #Sverige #Traveler #InstaPassport #TravelLife #PassportReady #PostcardsFromTheWorld #SwedenImages
When I landed in Stockholm it was a little before noon. Towards late November that means I had roughly 3 and a half hours of daylight left to explore. For someone whose interests lay in archaeology and medieval history, Sigtuna presented the perfect way to spend my afternoon on my way to my hotel. The town has an extremely high concentration of rune stones accessible for view though they are prevalent throughout the whole of Sweden. Rune Stones, contrary to what you would gather from the movies, aren't pagan. More often than not, they are Christian Memorial Markers erected by a family. The translation for the rune stone in that first image is "Sven had this rune stone cut in memory of. was the name of the second, Assur the third, Germund the fourth. was their mother" #RuneStones #Sigtuna #SigtunaSweden #Sweden # #IG_Sweden #TravelLife #PassportReady #InstaPassport #Travelgram #Traveler #InstaTravel #VisitSweden #MedievalHistory #Explore #Discover #Travel #Scandinavia #SwedishHistory #Sweden_Insta #SwedenImages #PostcardsFromTheWorld #RoadTrip #RoadTripThroughSweden
Sigtuna's old town is small, only a handful of blocks, but would have been quiet large for a town founded over 1,000 years ago. What it lacks in modern size it certainly makes up for in charm. Located in the Bay of Skarven in Lake Mälaren, it's current tranquility makes it hard to believe but Sigtuna was one of the most important commercial centers in Sweden for a quarter of a millennia. #Sigtuna #Sweden #SigtunaSweden #IG_Sweden #Explore #StoraGatan #Travel #TravelDeeper #InstaTravel #Adventure #Travelgram # #WomenWhoTravel #Wanderess #Discover #SwedenImages #VisitSweden #doyoutravel #travelingram #traveltheworld #swedishmoments #Traveler #RoadTrip #RoadTripThroughSweden #MyTravelgram #InstaPassport #TravelLife #PassportReady #PostcardsFromTheWorld #IGScandinavia
Sigtuna is the oldest town in Sweden and by American standards would be hardpressed to qualify as an actual town. Quaint and quiet in November when the tourists have all gone home, I had it mostly to myself with only a scattering of other visitors, most of them Swedish. According to tradition, Sigtuna was the home of Odin, the Norse god of Wisdom. In Norse mythology he would hold a similar seat as Zeus. #RuneStones #Sigtuna #Sweden # #OdinsHome #NorseMythology #VisitSweden # #Explore #Travel #TravelDeeper #InstaTravel #Adventure #Travelgram #WomenWhoTravel #SwedishHistory #InstaPassport #Travellife #stockholm_insta#PassportReady #doyoutravel#Loves_Sweden #IG_Sweden #Scandinavia
Brittany
@brittany.parrill : Washington, DC Up Next: Egypt and Jordan in April; Anacortes in June; Thailand in November
1309Posts
541Followers
326Following
#ArnöhuvudsNaturreservat #Sweden #TravelLife #TravelDeeper #InstaTravel #SwedenImages #IG_Sweden #Wanderess #VisitSweden #Scandinavia #DiscoverSweden #Moss #Mushrooms #Funghi #Nature
Halfway through the trail you come upon a ridge with a pine forest. To my pleasant surprise, a handful of bronze age burial mounds are scattered along the forest and the ridge line. #BronzeAge #ArnöhuvudsNaturreservat #Sweden #NaturePark #SwedenImages #Explore #Travel #TravelDeeper #InstaTravel #Travelgram #WomenWhoTravel #Wanderess #Discover #IG_Sweden #VisitSweden #traveler #Scandinavia #TravelLife #PassportReady # #Sverige #PostcardsFromTheWorld
I got distracted on the drive after visiting Skokloster Slott. Nearby is a rather beautiful park: Arnöhuvud Naturreservat but you have to drive through a private farm to get there. It's a narrow dirt road but it's worth it. #ArnöhuvudsNaturreservat #Sweden # #Sverige #Scandinavia #SwedenImages #VisitSweden #Explore #Travel #TravelDeeper #Travelgram #InstaTravel #Wanderess #Discover #TravelLife #PassportReady #WomenWhoTravel #Traveler #PostcardsFromTheWorld #InstaPassport #IG_Sweden #Globetrotter #Nature #Moss #woods
#SkoklostersSlott #Skoklosters #Sweden # #Sverige #SwedenImages #IG_Sweden #Explore #Travel #TravelDeeper #InstaTravel #Travelgram #WomenWhoTravel #Wanderess #Discover #VisitSweden #Scandinavia #Traveler #InstaPassport #TravelLife #PassportReady #PostcardsFromTheWorld #swedishmoments #igsweden
#SkoklosterKyrka #Sweden #SkoklosterSweden # #Sverige #Scandinavia #IG_Sweden #TravelLife #PassportReady #TravelDeeper #Travel #Discover #Explore #Traveler #Wanderess #SwedenImages #PostcardsFromTheWorld #VisitSweden
For the life of me I couldn't decide what I wanted to do on my first full day in Sweden. So I picked a town and started driving hoping something would spark my interest along the way. And it did indeed: Skokloster Slott was posted on a brown tourist sign over the highway. And after a 20 minute drive out of the way, it DID NOT disappoint. While the castle was closed while I was there, the grounds were open and it was a beautiful walk. The castle was constructed between 1654 and 1676 by Count Carl Gustaf Wrangel. His death in 1676 however means the current castle actually sits in an unfinished state. Wrangel's eldest daughter, Margareta Juliana, had the estate entailed in 1701 and its collections and property have only increased during the subsequent 300 years. Its essentially become a time capsule of Sweden's "Age of Greatness" during the 17th and 18th centuries when they were a major world player. #SkoklosterSlott #Skokloster #Sweden #SkoklosterSweden # #IGSweden #Explore #Travel #TravelDeeper #InstaTravel #Travelgram #Wanderess #Discover #Sverige #VisitSweden #Scandinavia #IG_Sweden #TravelLife #PassportReady #InstaPassport
To this day I still have no idea what I ordered but it was AMAZING. The staff at the hotel restaurant at Hesselby Slott was the best. My server gave me several recommendations for places to go in Sweden as I was at a loss. Its rare that I don't travel with at least a general plan of "To Do's." As the other guests filtered out he came and spoke with me for about 30 minutes. It made for a highlight of my days in Sweden. This was also my best meal and a close second to my favorite meal (that being Thanksgiving Dinner in Ukraine) of my entire trip. If you are ever in the area, I cant recommend the hotel or the restaurant enough #HesselbySlott #CastleStays #HässelbySweden # #Sweden #BestMeals #SwedishCuisine #Explore #Travel #TravelDeeper #InstaTravel #Travelgram #WomenWhoTravel #Wanderess #Discover #IGSweden #VisitSweden #Scandinavia #Sverige #SwedenImages #TravelLife #PassportReady ##IG_Sweden #traveler
As far as hotel stays go, this one was pretty sensational. It isn't far from Stockholm but definitely worth the drive out of the city. The castle was built for Karl Bonde in the 1640's. His descendants owned the property until 1931 when it came under ownership by the City of Stockholm. Originally three floors, the upper level was completely destroyed by fire in 1721 and the valuable library was lost. The property fell into disrepair during the 20th century until the city's purchase of the estate, renovating the baroque gardens and the house in the 1960's. #HesselbySlott #CastleStays #Sweden #HässelbySwdden # #Explore #Travel #TravelDeeper #InstaTravel #Travelgram #WomenWhoTravel #Wanderess #Discover #PostcardsFromTheWorld #IG_Sweden #TravelLife #PassportReady #Traveler #sverige #TravelTheWorld #VisitSweden #InstaPassport #Scandinavia #SwedenImages
The Ruin of St Olof's in Sigtuna is only one of three major church ruins in the town. There were as many as seven major churches constructed during the town's first 300 years but only these ruins remain of any of them. St Olof's was constructed in the early 1100's but after extensive excavations in the 2000's, it was discovered it actually sat upon an older structure believed to be the oldest stone church in Sweden. There are five rune stones on the church grounds, one of which is actually embedded in the wall of the ruined church. #Sigtuna #SanktOlofsKyrkoruin #RuneStones #SigtunaSweden #Sweden # #IG_Sweden #VisitSweden #Scandinavia #Explore #Travel #TravelDeeper #InstaTravel #Travelgram #WomenWhoTravel #Discover #Sverige #Traveler #InstaPassport #TravelLife #PassportReady #PostcardsFromTheWorld #SwedenImages
When I landed in Stockholm it was a little before noon. Towards late November that means I had roughly 3 and a half hours of daylight left to explore. For someone whose interests lay in archaeology and medieval history, Sigtuna presented the perfect way to spend my afternoon on my way to my hotel. The town has an extremely high concentration of rune stones accessible for view though they are prevalent throughout the whole of Sweden. Rune Stones, contrary to what you would gather from the movies, aren't pagan. More often than not, they are Christian Memorial Markers erected by a family. The translation for the rune stone in that first image is "Sven had this rune stone cut in memory of. was the name of the second, Assur the third, Germund the fourth. was their mother" #RuneStones #Sigtuna #SigtunaSweden #Sweden # #IG_Sweden #TravelLife #PassportReady #InstaPassport #Travelgram #Traveler #InstaTravel #VisitSweden #MedievalHistory #Explore #Discover #Travel #Scandinavia #SwedishHistory #Sweden_Insta #SwedenImages #PostcardsFromTheWorld #RoadTrip #RoadTripThroughSweden
Sigtuna's old town is small, only a handful of blocks, but would have been quiet large for a town founded over 1,000 years ago. What it lacks in modern size it certainly makes up for in charm. Located in the Bay of Skarven in Lake Mälaren, it's current tranquility makes it hard to believe but Sigtuna was one of the most important commercial centers in Sweden for a quarter of a millennia. #Sigtuna #Sweden #SigtunaSweden #IG_Sweden #Explore #StoraGatan #Travel #TravelDeeper #InstaTravel #Adventure #Travelgram # #WomenWhoTravel #Wanderess #Discover #SwedenImages #VisitSweden #doyoutravel #travelingram #traveltheworld #swedishmoments #Traveler #RoadTrip #RoadTripThroughSweden #MyTravelgram #InstaPassport #TravelLife #PassportReady #PostcardsFromTheWorld #IGScandinavia
Sigtuna is the oldest town in Sweden and by American standards would be hardpressed to qualify as an actual town. Quaint and quiet in November when the tourists have all gone home, I had it mostly to myself with only a scattering of other visitors, most of them Swedish. According to tradition, Sigtuna was the home of Odin, the Norse god of Wisdom. In Norse mythology he would hold a similar seat as Zeus. #RuneStones #Sigtuna #Sweden # #OdinsHome #NorseMythology #VisitSweden # #Explore #Travel #TravelDeeper #InstaTravel #Adventure #Travelgram #WomenWhoTravel #SwedishHistory #InstaPassport #Travellife #stockholm_insta#PassportReady #doyoutravel#Loves_Sweden #IG_Sweden #Scandinavia